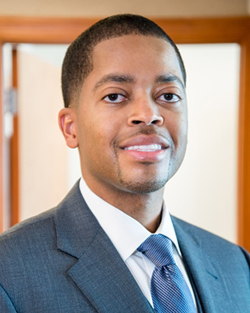 Miami Dermatology and Cosmetics Prime, LLC
8950 SW 74TH Court Suite 1413
Miami, FL 33156
305-670-0146
I practice Dermatology, but my specialty is listening to my patient's needs and formulating a personalized plan. This builds rapport and results in improved outcomes.
Born and raised in Miami/Fort Lauderdale, Dr. Bridges completed his undergraduate studies at Morehouse College in Atlanta, GA under a full academic scholarship, graduating Summa Cum Laude and with Phi Beta Kappa honors. Dr. Bridges then went on to Baylor College of Medicine and Rice University in Houston, TX, earning a joint M.D./M.B.A degree under the auspices of Baylor College of Medicine's Presidential Scholarship and the Baylor/Rice M.D./M.B.A. Merit Scholarship. While in medical school, Dr. Bridges had the opportunity to spend a month in Quito, Ecuador in order to learn medical Spanish while rotating through medical clinics.
Dr. Bridges' hobbies include weight training, jogging, attending sporting events and food/drink festivals, traveling, movies, concerts, and spending time with his family.
Jun 2014 - Legacy Magazine 40 Under 40 African-American Leaders of Today and Tomorrow
Jul 2011 - Black Health Magazine Top 25 African-American physicians in Miami
Mar 2010 - Florida Department of Health Distinguished Service Award
Sep 2007 - American Academy of Dermatology grant recipient for Congreso da Sociedade Brasileira de Dermatologia
Nov 2005 - American Academy of Dermatology grant recipient for Congreso Ibero-Latino-Americano de Dermatologia
2003 Baylor College of Medicine Presidential Scholar
1997 Phi Beta Kappa Honor Society
Board Certification
American Board of Dermatology
Residency

Medical Degree
Baylor College of Medicine