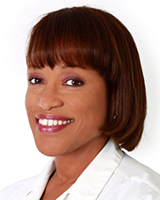 Alison Clarke-DeSouza, MD
Alison T. Clarke-DeSouza, MD, LLC
3100 Coral Hills Dr Suite 207
Coral Springs, FL 33065
954-341-9777
My office policy is to always listen to what the patient is telling you and to treat the patient the way you would like to be treated. Following these two principals will ensure the best treatment which we strive to accomplish in our practice.
Dr. Alison Clarke DeSouza is board certified by the American Board of Obstetrics & Gynecology. Married with one child, she was born in West Palm Beach but grew up in Miami. Dr. DeSouza completed her OB/GYN residency at the University of Miami/Jackson Memorial Hospital and has been practicing in the local area for over 20 years. She speaks both English and Spanish.
Dr. DeSouza is a mentor for Take Stock in Children, a non-profit Florida organization that provides an opportunity for deserving low-income youth to escape the cycle of poverty through education. She is also a member of Jack and Jill of America, Inc., a membership organization of mothers with children ages 2-19, dedicated to nurturing future African-American leaders.
Outside of the office, Dr. DeSouza participates in 5K walks and runs and sings in the adult choir at St. Magdalene Episcopal Church. She is also a member of Alpha Kappa Alpha (AKA) sorority.
Coral Springs Medical Center
Northwest Medical Center
Outstanding Resident Award, 1983
Most Compassionate Resident Toward Patient, 1983
Who's Who in Executives and Business Leaders, 2000
America's Top Obstetricians and Gynecologists, 2002-2003
America's Top Doctors, 2005
Best Doctors in America, 2005-2006, 2007-2008, 2009-2010
Trademark Who's Who, 2013-2014
Board Certification
American Board of Obstetrics and Gynecology
Residency
University of Miami/Jackson Memorial Hospital
Medical Degree
University of Florida College of Medicine