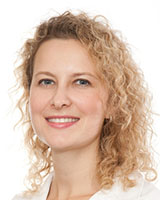 Marianna Blyumin-Karasik, MD
Precision Skin Institute, LLC
3501 S University Drive Suite 5
Davie, FL 33328
954-998-0345
Comparison is the thief of joy.
Dr. Marianna Blyumin-Karasik is a board-certified dermatologist. She is a co-founder and dermatologist at Precision Skin Institute, located in Davie, Florida. Her medical training includes an internal medicine (residency) and clinical trials (fellowship).
Dr. Blyumin-Karasik was born in Estonia and grew up in Maryland. She now lives in Davie, Florida with her husband and daughter. She enjoys running, reading, traveling, wine, and art. In addition, she a member of Femfessionals, a global community of positive professional women.
Hear From Our Physicians
Memorial Regional Hospital
Board Certification
American Board of Dermatology
Residency
Washington Hospital Center - Internal Medicine
Medical Degree
Georgetown University School of Medicine